Category Insights
Stock up on baby care essentials. Follow our guide to the must-stock baby products.
In the independent convenience channel, the total baby care category is worth more than £15m a year. Support your customers by stocking a core range to ensure you have the essentials every parent needs.
Build customer trust
It's essential retailers focus on the in-store experience for customers to build trust, which leads to sales. The store must be easy to navigate for shoppers with a pram or pushchair. Make sure everywhere is tidy and no obstacles are left on floors. A clean store is a successful one, parents won't feel comfortable buying baby products if your store is dirty. Keep stock levels high and consistent so customers can rely on you. Use window posters, in-store signage and social media to shout about your baby offering.
Influences
Brand is one of the most important factors in purchasing decisions – 62% of parents will shop elsewhere if they can't find the brand they trust in store. This is particularly relevant to nappies and baby toiletries. Pampers nappies are an absolute must-stock, holding 90% market share in the independent convenience channel4. Johnson's Baby has a massive 91% of the channel, so you need to have a good range on shelf.
Matt Stanton, Head of Category & Insight, DCS Group, said: "Shoppers use signpost brands to navigate, so position these prominently on the left-hand end of each shelf. Pampers, Huggies and Johnson's Baby are the key baby care brands. Block brands together on shelf where possible, especially those with stand-out packaging colours, eg Pampers."Value is also important as when choosing which wipes to purchase, the shopper's most important consideration is price6. Provide branded products in price-marked packs – one third of shoppers say they are reassured by the fact that the price is printed on the pack – and own- brand alternatives, such as Lifestyle nappies and baby wipes.
Merchandising
Matt advises retailers stock the right range of nappy sizes to maximise sales. Sizes 5 and 6 are the bestselling, then size 4 and size 3. Consider stocking nappy pants if you have space alongside the nappies core range (which still has the higher market share – 59%) as the market share in pants is growing. Merchandise nappies on the bottom shelf of your fixture, with wipes and baby toiletries above. There's a wide range of baby toiletries available, so if space is limited, prioritise cotton buds, baby powder, Sudocrem and baby oil.
Consider siting your baby range next to feminine care and female personal care, as customers will shop across these categories, increasing basket value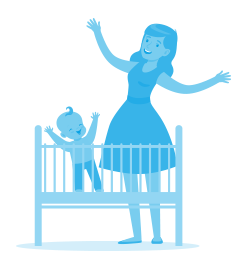 Three quarters of shoppers stick with the same brand of nappy after their first purchase
In the UK, around 8 million disposable nappies are used per day
For further information on how to maximise your sales in this area, please click on the downloads and tools below.
< Back