Category Insights
Are you cashing in on the huge opportunity of the crisps and snacks category?
There are few benefits to the lockdown, however, one is that the crisps and snacks category is more in demand than ever. Here's our guide to help you make the most of this growing trend.
Essential advice
Check impulse stock regularly that may not have sold through during the lockdown. Check dates, rotate stock and watch out for short-dated products.
Our top tips:
Offer a range of big bag sharing packs and small multipacks to satisfy customer demand, including £1 PMP.
Ensure you have the core range of bestselling single packs that cover all price points for those looking for lunchtime meal deals.
There are a whopping 4,500 crisps and snacks products in the convenience channel, but 80% of sales just from just 5% of these.3 Use Plan for Profit to make your limited shelf space work hard and focus on the bestsellers.
During lockdown, shoppers are spending as little time in store as possible. In fact, shoppers generally spend only 23 seconds browsing the crisps fixture4 so make it easy for customers to find what they are looking for.
Merchandise similar products together, such as snacks, ridged, sharing packs and block by brand.
Ensure great availability.
Show products at every price point, and position them with value at the bottom of your fixture, bestsellers at eye-level with double facings if possible, and premium at the top.
Secondary displays lead to 48% of sales,5 so could you site your crisps and snacks in other areas of the store? Site sharing bags close to alcoholic and soft drinks for evening occasions. Site single bags near the chillers for lunchtime occasions.
£1 pricemarked packs
40% of snack shoppers more likely to buy £1 PMP
82% of retailers say £1 PMP are must-stock products.1 The £1 PMP has grown even more due to Covid-19,1 therefore ensure PMP £1 bestsellers are displayed prominently within the fixture.
56% of crisps and snacks sales growth comes from brand new products. Stock the latest new lines to generate excitement.
Visit the Plan for Profit new products launches section to stay up to date.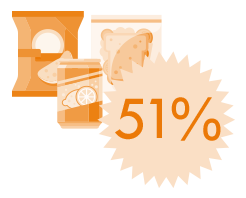 Grab and go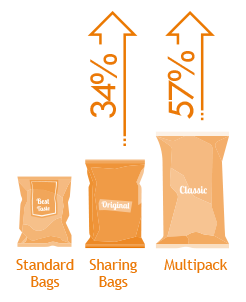 51% of the UK adult population is looking for a meal deal when buying food to go, so single packs play a key role.
£1 pricemarked packs
Sugar-free drinks are rising in popularity and in great demand as customers opt for healthier options. In fact, 70% of shoppers are actively trying to reduce sugar and artificials in their diet.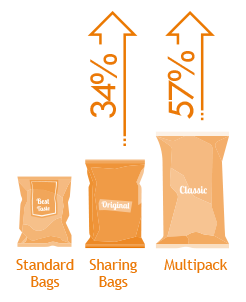 For further information on how to maximise your sales in this area, please click on the downloads and tools below.
< Back