Healthy eating is a trend that looks set to stay. With health-conscious shoppers looking for foods low in fat, salt, sugar and calories, as well as natural food with added health benefits and free-from alternatives, it's clear that snacking is where choice is needed most. And when better to introduce it than January, the time for those healthy eating New Year resolutions?
Here's our top five tips to getting tasty sales from your healthy snacking range.
1. Identifying your range in store is key
Dedicate space to wholesome, low-fat, low-salt and low-sugar, high-protein and free-from products and highlight them with clear point of sale to help shoppers easily find a healthier option suitable for them.
4. For a healthier alternative to confectionery, think protein and nut bars
The nut market is worth £317m+ and nuts are a great grab-and-go option, while according to Mondelez International, the protein bar market is now worth £51m and growing by 54% year-on-year. YES! bars make a great addition to your existing range, offering innovative flavours, perfect for customers wanting to grab and go.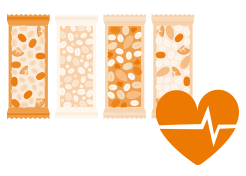 2. The combination of healthy and indulgence is a winner
Customers want taste and flavour, as well as convenience and the feeling that they're treating themselves, so think about breakfast bars, porridge pots, and snacks and crisps such as KP Popchips, Tayto Light and Loaded, and Walkers Sunbites, Snack a Jacks, Poppables and Baked.
5. Focus on health and fitness fans
For gym-goers looking for a high-protein, low-calorie snack, could you dedicate a small section in your chiller for protein-packed items such as chicken chunks, slices of ham, high-protein yogurts and healthy snacks such as carrot sticks and fruit salad portions? Use eye-catching on-shelf POS to point out healthy options to help customers navigate your store.
3. Offer value
A meal or snack deal is a great platform to showcase your range of healthy snacking options and for you to inform customers about the nutritional benefits in their choices.