During lockdown, a clear trend has emerged as the nation has embraced getting creative in the kitchen. With restaurants briefly off limits, more and more of us have opted to create delicious meals at home and this trend looks set to continue.
As a result, retailers must tailor their offer to make the most of the opportunity. For those customers choosing to shop little, often and local, it's essential that you vary your offer to keep them excited and coming back for more. Grab their attention by varying your range and build excitement around tonight's dinner and make it clear that you have everything they need, from starters to sides, main courses, desserts, gifting and drinks. Use social media and signage in store to inspire them and, where possible, offer multi- buy deals to really deliver value. Here's our top tips to keep your meal for tonight offer fresh to inspire your customers and it may just attract a whole new following.
1 Vary your fresh fruits and vegetables – add new products as often as you can throughout the week to keep your offer interesting.
4 Review your fresh offering – are you offering fresh mince, chicken breasts and meat substitute products?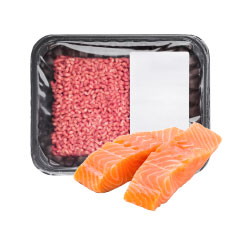 7 Think about easy, budget after-school meals – could you offer ready meals or options that take minutes to create, such as mac 'n' cheese, bangers 'n' mash, fishfingers, baked potatoes or tacos?
10 Remind customers you also have snacks, chocolates and wine as gifts and a wider range of confectionery, soft drinks and alcohol to go with their meal for tonight.
2 Assess your staples, such as pasta and rice, and replace your slowest-selling lines with less-common products, such as orzo and less traditional pasta formats.
5 Consider your vegetarian range – could you expand your product range to make your customers sit up and take notice?
8 Use in-store signage to direct customers to other ingredients to make family favourite dishes.
3 Be more adventurous with your jarred sauces – as well as korma and tikka masala, how about a makhani, bhuna or Thai curry? Are you offering naan and poppadoms? Do you sell pastes and the ingredients to make a curry from scratch?
6 Focus on the occasion – whether it's a family dish, a meal for friends or a traditional Sunday roast – and make sure you offer everything they need from sides to desserts and indulgences, plus chilled wine and beer to accompany.
9 Shout about your 'meal for tonight' offer on social media – inspire your customers with simple recipes and make it clear you have all the ingredients they need.