Category Insights
Shopper Mission - Rise and shine
With 96% of consumers buying into the breakfast category, this is a key category for the independent retailers, worth a whopping £57m (and growing)
Helping your customers start the day right is a big responsibility. Use Plan for Profit to make sure you're stocking all the bestselling products your customers are looking for and watch your sales rise.
Whether customers enjoy breakfast at home, eat on the go or take their breakfast to work, the first meal of the day offers convenience retailers a huge sales opportunity. Your store provides a lifeline for customers, enabling them to stock up on the essential fuel for the day whether it's cereal, bread, bacon or croissants and coffee.
Since lockdown restrictions have been imposed, your customers' daily routines will have changed. Be prepared for breakfast customers to call in earlier or later than usual, with demand for some products to extend further into the day as their working patterns change. Follow Plan for Profit's guide to the most important meal of the day.
For the kids
Make sure you have a range of cereals that tick the boxes for children and their parents. Focus on the bestsellers, such as Rice Krispies, Coco Pops and Weetabix, and a variety pack will always be a winner!
Baked goods
Take your breakfast offering to the next level with an on-the-go range of pastries, which make a great impulse and treat purchase. With a great deal from our Drop Shipment supplier Country Choice, you can introduce an in-store bakery to offer a range of baked goods.
Healthy options
85% of UK shoppers are actively looking for healthier options for breakfast, so be mindful of this when selecting your range. With a strong and growing demand for protein, look for products with added protein, fruit or without added sugar. For those looking for a lighter option, stock up on fresh fruit and a range of lower- fat yogurts – stock up on spoons to take away too.
On the go
From porridge pots to cereal bars, there's plenty of choice for customers wanting to buy breakfast on their way to work or school. Breakfast on the go is predicted to be worth £130m by 20231, with breakfast drinks the newest trend within the breakfast category. With so many options to choose from, are you stocking the right products?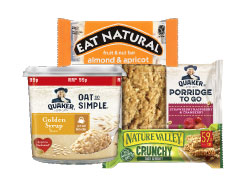 Hot, hot, hot
With 83% of people opting for breakfast at home, can your customers buy all the ingredients for a cooked breakfast from your store? Their local store is likely to be their first port of call, so stock up on bacon, eggs, bread, sausages and vegetarian options, hash browns, condiments and sauces.
< Back