During 2020, Covid-19 and lockdown dramatically changed the way we live, work and shop. As convenience retailers, you will have felt the impact directly. What has lockdown meant for your store? Are you seeing more footfall? Are customers using your store but shopping differently?
As life slowly creeps towards a new normality, it is clear that for retailers, there are plenty of opportunities. Follow our top tips for making the most of those lockdown sales, retaining your customer base and future-proofing your store:
Become a food-to-go destination
If your store is close to workplaces where canteens may no longer be open, or local cafes or sandwich shops have yet to open due to Covid-19, rethinking your food-to-go range could really boost your profits. Tempt customers with a great range of fresh sandwiches, great value meal deals, hot and cold food to go such as pastries, pies, hot dogs, soups, salads, confectionery, crisps and snacks and hot drinks.
Home delivery
Home deliveries have proved to be a lifeline for so many customers during lockdown and have won retailers a lot more business. Customers have embraced technology, even those who have previously shied away from it, and as a result, they expect to be able to order online or via social media and have their order delivered. Continue to offer home delivery and your customers will repay you with their sales and their loyalty.
Tempting world foods
As restaurants and takeaways on your doorstep may struggle to reopen after lockdown, retailers can spring into action with a great world foods range, offering a variety of options to cook delicious dishes at home. Look carefully at your offer – are you selling all the elements your customers will be looking for? As well as rice and a range of cooking sauces, do you stock fresh meat, naan breads, poppadoms, prawn crackers and other sides such as garlic bread or tortilla chips? For the full experience, offer a range of speciality drinks, ideal to pair with world foods, such as Cobra, Tiger, Singha and Tsingtao?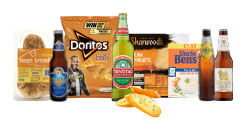 Fresh thinking
Your customers have come to rely on you during lockdown and you can maintain their loyalty by expanding your chilled and fresh offer so there is no need for them to visit the larger supermarkets. Customers will measure the quality of your store by your fresh offer, so be sure that you keep it interesting by adding new products on rotation rather than always having the same stock. Inspire your customers with your fresh produce and make sure that fresh product is always in excellent condition, quickly removing anything that is beginning to look tired or is past its use by date.