Day-Today Symbol Group
Day-Today Symbol Group operates in Scotland and is part of Unitas Wholesale, the UK's largest independent wholesale buying group.
Day-Today enables you to run your business independently while benefitting from being part of a symbol group. As a Day-Today retailer you have a choice of three fascias, depending on your individual business needs. By becoming a Day-Today retailer, you will be provided with the industry leading support and the direction required to succeed in Today's marketplace.
Symbol Group membership can transform your business and as a Day-Today retailer you will benefit from a greater level of support from your local wholesaler and the Unitas Wholesale central team.
Why join?
Choice of 3 modern fascias: Day-Today (Green), Day-Today express (Green) and Day-Today (black)
Internal and external imagery
Store re-merchandised to the latest category planograms
Personalised consumer leaflet, with 3 weekly promotions and in-store POS materials
In-store services and drop shipment
On-going range and category advice via Plan for Profit
Development support, appraisal and planning
EPOS and digital marketing support
Dedicated on-going development manager
Independent wholesaler supporting the independent retailer
Retailer testimonial: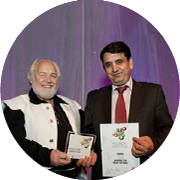 Mr Alsam, Wallyford Day-Today, Musselburgh, near Edinburgh
"I get great support from Unitas Wholesale member United Wholesale (Scotland), their promotions are great and my customers love the deals on offer. I'm also provided with plenty of attractive signage that makes the offers really stand out to my customers."
For further information on becoming a Day-Today Symbol retailer, please contact us on 0843 523 5244, or complete the form below, and someone will be in touch to follow up your enquiry.
Sign up form