Today's Symbol Group

Today's Symbol Group is one of the UK's fastest growing Symbol Groups and operates in England, Wales and Ireland and is part of Unitas Wholesale, the UK's largest independent wholesale buying group.
Today's gives you the choice of four modern red fascias, developed to suit a verity of store formats. We will always find the perfect balance of maintaining your independence and identity while providing the industry leading support and direction required to help your store succeed.
Symbol Group membership can transform your business and as a Today's retailer you will benefit from a greater level of support from your local wholesaler and the Unitas Wholesale central team.
Why join?
Choice of four modern fascias; Today's extra, Today's local, Today's express and Today's drinks
Internal and external imagery
Store re-merchandised to the latest category planograms
Personalised consumer leaflet, with 3 weekly promotions and in-store POS materials
In-store services and drop shipment
On-going range and category advice via Plan for Profit
Development support, appraisal and planning
EPOS and digital marketing support
Dedicated on-going development manager
Independent wholesaler supporting the independent retailer
Retailer testimonial: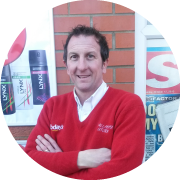 Jason Callaby, Today's Local, Alford, Lincolnshire
"I was being let down by my previous wholesaler, they became too big and I was just a number. The Unitas wholesale central team and member wholesaler, Dee Bees are different. Claire, the rep, and Graeme, my business development manager, give me plenty of support. They really want me to thrive and they're full of ideas to move the business forward."
For further information on becoming a Today's Symbol retailer, please contact us on 0843 523 5244, or complete the form below, and someone will be in touch to follow up your enquiry.
Sign up form