The average soft drink shopper visits your store 3.9 times per week, with the majority of their visits taking place at lunchtime and during the afternoon. They're also more likely to buy crisps, snacks and confectionery products, so it's essential that these categories are positioned close to each other.
More than half of soft drink shoppers are on a food-to-go mission, therefore, partner a good range with your meal deal offer so customers know they're getting great value. Use strong point of sale close to products so your customers are clear about what's included in your meal deal offer to encourage them to buy.
Make sure any new product developments are centre stage. Use strong point of sale to highlight these products as customers may be keen to try them.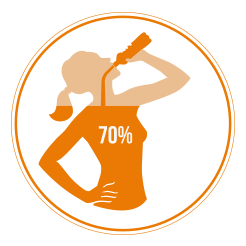 'Drink now' accounts for 70% of soft drinks sales, so it's essential that you have a great range in your chiller, ready to drink. Remember to replenish your stock each evening so that products are chilled by the morning. Rotate your stock to ensure drinks at the front are at the right temperature to drink now.
Energy is the largest sector within the soft drinks category and is worth £449m and growing at 9.6%. Cola is the second largest and worth £405m and is also in growth, mainly driven by low or no-sugar options and new flavoured variants.
Sugar-free drinks are rising in popularity and in great demand as customers opt for healthier options. In fact, 70% of shoppers are actively trying to reduce sugar and artificials in their diet.